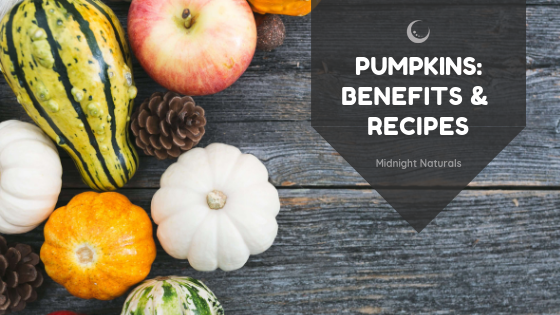 Warning: this article was written with a cat in my lap. Some of the expressed thoughts may have been hers. Neither of us gets paid for them.
Halloween is tomorrow. Stores are littered with pumpkins and Pinterest is filled with amazing photos of gorgeously carved pumpkins. Pumpkin-Spice-Everything is everywhere. It's a lot of fun (except for the pumpkin spice craze… that can go).
I love going to any grocery store this time of year and admiring the beautiful displays of pumpkins in every size and shape. But did you know that the best thing you can do with a pumpkin is to just eat one? Turns out, pumpkins are an incredibly nutritious, low calorie food!
A FEW HEALTH BENEFITS:
Because pumpkins are ~90% water, they are very low calorie (50 calories in one cup!)

Heads up: that's one of the reasons you have to drain cooked pumpkin with a cheesecloth for some recipes.. All that water!

Pumpkins are very high in beta-carotene which converts to Vitamin A and supports eye health, skin health, and your immune system
Pumpkin is high in antioxidants like alpha & beta-carotene, lutein, and zeaxanthin which makes it a great ally in fighting against chronic diseases
Pumpkins are very heart healthy because of high amounts of potassium, fiber, and Vitamin C
Want to know a few more details? Check out this article on Healthline for a very nice summary and a warning at the end to folks that should not eat pumpkins: 9 Impressive Health Benefits of Pumpkin
Pretty cool, huh? Yea, I think so, too.
But I will be honest, while I was staring at the three gorgeous pumpkins on my counter, the only recipes that came to mind were desserts loaded with sugar!
RECIPES
Childhood memories to the rescue. My mother used to make Pumpkin Kasha for me as a kid and it still makes me happy, especially on a gloomy day.
Pumpkin Kasha is a traditional Slavic dish and there are a lot of different ways to make it; the below is just one of them. This is so quick and easy that even I can handle it. Plus, this recipe is very forgiving! A little more or a little less rice is perfectly fine and you can add/subtract to your taste. You can get creative and add raisins and cranberries and all sorts of things to it. The below is the "base" that you can get creative with. Of course, I eat it just as is… because I like sticking to the basics.
SAVORY PUMPKIN KASHA
 (Not really a recipe but more like guidelines. Cooking is art not science, right? )
1 sugar pie pumpkin
1 cup uncooked white rice
2 cups milk (or coconut milk)
Salt, Pepper, and Spice to taste
Cooked Pumpkin – This part of the process can be used for any recipe that requires mashed pumpkin. I find this the easiest approach that doesn't add additional water or strip away nutrients (like boiling does).

Carefully, cut the pumpkin in half and remove seeds and strings

Put face down on a baking sheet. Cover with foil.
Bake in oven for 1-2 hours at 350F.
After you wash them, you can add the seeds in as well to roast at the same time on another baking sheet! Save energy and run your oven once.
The time will depend entirely on the size of your pumpkin and your oven. The pumpkin is done when you insert a knife and it goes in easily (same as potatoes).
Remove from oven and let cool enough to touch.
Scoop out, mash and set aside.
You should have roughly 4 cups of pumpkin done!
Cook 1 cup of white rice in 2 cups of milk.
When the rice is almost finished but still a bit al dente, mix in the pumpkin puree and continue to cook until the rice is soft.
Salt, Pepper, and Spice away. Get creative!
When I make this for myself, I rarely add many spices. I like the taste as is! But if I make it for my husband or any of my American friends, I would add a bit of cinnamon, nutmeg, and butter.
Interested in recipes that maybe have a bit more zing to them? Check out this really great list of practical recipes that you can try: 12 Savory Pumpkin Recipes
Give pumpkin-eating a try! It's really good for you and the few days they sit on your counter before you cook make your kitchen look super-festive. Let me know if you end up making something savory and what is your favorite recipe!